The National Library of Medicine updated its PubMed search engine, probably one of the most popular search sites among researchers in the life sciences, health, and medicine. After a few months of bugginess and some site tweaks, the new version seems to have settled into a useful search engine with a lot of features that researchers will find useful. Below are some that we like the best, along with tips about how to use them.
Filtering by publication year or date
Let's say that you don't want to wade through decades of research on a specific search term and want only publications appearing in the last five years.
You have two options. You can use the year slider, which looks like this:
To exclude publications preceding 2017, all you have to do is slide the left button over to the right until it looks like this:
Voila. All you have now are articles published from 2017 with your search term. This slider is great if you want publications within a specific window of time, constrained by years, such as 1890–1910. Just set the buttons accordingly: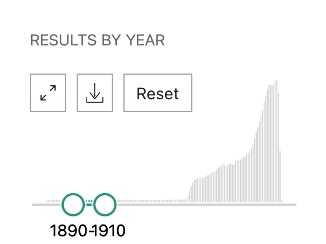 If you want to limit your search only to publications from the preceding year or 5 or 10 years, you can also use the one-click publication date filter, which looks like this: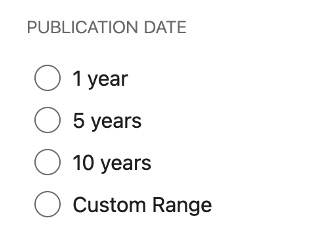 Just select the choice that fits your search needs. If you have really specific needs, such as publications only from July 2021, you can set that range using the "Custom range" option.
The left navigation bar of the search screen offers a lot of other filters you can choose, including for free-text articles only (no paywalls), reviews only, and an advanced menu of options under "Additional filters." To get rid of all filters, you just need to click the "reset" button: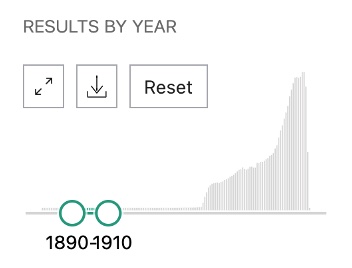 You can still save and send
The interface still allows you to save searches to your PubMed profile or email to yourself or send to a citation manager.
You can still create alerts
To create an alert, just choose the "create alert" option below the search window:


You can still sort your search returns
You can select how you'd like your returns to look (summary information, full abstract, PubMed ID [PMID] only), and you can select their order (best match, oldest to newest, newest to oldest, etc.).
Some great features within each entry
When you select a returned hit, PubMed takes you to the page for that publication, using the PMID number added to the root URL pubmed.ncbi.nlm.nih.gov/. For example, if an article has the PMID 30169257, then its URL is https://pubmed.ncbi.nlm.nih.gov/30169257/.
At that page, you'll find a wealth of options. In addition to the publication information (including a hotlinked DOI that takes you directly to the original) and abstract, just below, you'll find links to "similar articles," which can be a huge help for researchers digging into the literature on a specific subject. Just below that, PubMed offers a "cited by" listing, showing all of the articles in the database that have cited this particular publication.
In each case—"similar articles" and "cited by"—the list on the page is usually truncated to five hits. To see the rest, you'll need to click on "See all similar articles" or "See all 'Cited by' articles" for the full list. Clicking on either will take you to a PubMed search page with a list of the articles.
Scrolling down below these options, you'll find links out to clinicaltrials.gov, showing entries in that database that might be related to your search, and some other possible relevant resources. For people on a quest for the MeSH terms related to this article, that's given there, too.
The right-hand navigation bar on each PMID page for a specific article also. You can click the "favorites" button to store this entry in your PubMed favorites (required login). There also will be a button to the original published version of the article on the publisher website (e.g., Elsevier). If the entry is a free full-text publication, you'll see two options there, one that goes to the publisher site and one that goes to the PubMed Central (a.k.a., PMC) site, where these open-access articles also reside.
The right navbar also offers buttons for sharing the PMID link on social media (Facebook or Twitter) or to copy the link for pasting it elsewhere.
Citation options
One of the most useful options available for each PMID page is the "Cite" button. If you click on that, you'll find the full citation for the publication, with several different formatting options. For example, can change the formatting of the citation from the default option of National Library of Medicine (i.e., NLM) formatting to the Modern Language Association (i.e., MLA) style, if that's what you need: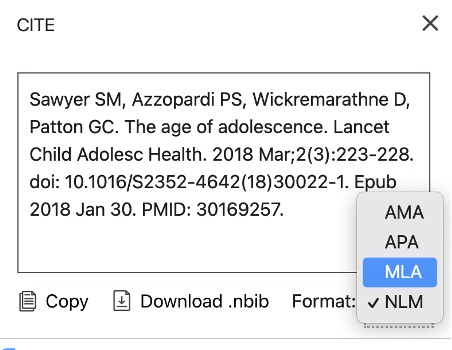 If you click "Copy," you'll copy the entire citation in your chosen style for pasting elsewhere, and you can also choose to download in the National Libaries .nbib format.
Finally, the right navbar also offers a list of links to all of the elements on the page, including the "Similar articles" and "Cited by."
The search engine itself is largely the same
The methods for conducting searches, including use of filters and different fields, are like those of most search engines. You can use the basic search window, which is easiest, or refine searches using the PubMed Advanced Search Builder, linked just below the default search window:
If you find yourself needing user support, also just below the default search window, just under the "Search" button is a link to the site's User Guide.
Happy searching!
San Francisco Edit specializes in scientific editing in the United States and we work with scientists from all over the world.